Get out of here stalker!

This page contains spoilers to the game's final plot. It is advised you skip this section or page if you haven't completed the game yet!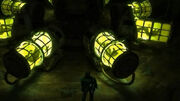 The C-Consciousness is the result of a secret project of the clandestine research society, The Group, for the purposes of noosphere alteration. It is ultimately responsible for the creation and expansion of The Zone.
Origins and purpose
Edit
"
We are the result of an experiment aimed at creating a superconsciousness called "C-Consciousness". The consciousnesses of seven volunteers were connected during the experiment leading to the creation of the superconsciousness that is us. We immediately subordinated those who were conducting the experiment and assigned them to tasks we needed them to carry out. According to our calculations, Earth is surrounded by a special informational field, the so-called noosphere. It includes all the inhabitants of the planet with cognitive abilities. Our main goal was to make small adjustments to the noosphere, allowing us to remove things like anger, cruelty, greed and other negative factors from the planet. Individuals are unable to affect the noosphere but C-Consciousness could. Unfortunately we made a mistake and our interference spawned the Zone, which we have been trying to contain ever since.
- C-Consciousness about itself
"