Exoskeleton

Inventory icon

Lost Alpha
Impact

90%

Rupture

80%

Explosion

80%

Firearms

60%

Burn

50%

Chem. Burn

50%

Electric Shock

50%

Radiation

30%

Night Vision

1st Generation
Night vision

Weight

15kg

Value

50,000 RU

[Source]

The Exoskeleton is an protective suit that appears in S.T.A.L.K.E.R.: Lost Alpha and all other canon S.T.A.L.K.E.R. games.
"
A military exoskeleton prototype. It never went into serial production, because of extreme cost and some design flaws. It is however produced in small batches in small illegal factories outside of Ukraine. This is a third generation exoskeleton. The design defects which used to decrease its mobility were eliminated and the armor was reinforced. It provides excellent bullet and splinter protection. It has a low level of anomaly protection.
- PDA description
"
A0 Section
2nd Generation PNV - A better night vision device, designed for operations in complete darkness. - 2,500RU
A1 Section
"Tow" leaded suit - A domestic development which appeared after the Chernobyl accident. Used in the exoskeleton to protect the electronics. radiation_protection = 0.45 - 5,000RU
A2 Section
Kurassier Titanium plating - An obscene amount of titanium plating would be too heavy for the average trooper, but not for one using a powered exoskeleton. - fire_wound_protection = 0.70 - 7,500RU
Also adds 20kg to carrying capacity for a player, for a maximum of 80 kg before immobilization.
Not possible to run wearing this armour (unless cheating)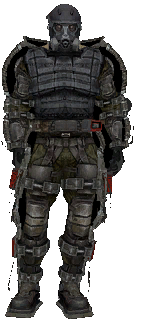 Ad blocker interference detected!
Wikia is a free-to-use site that makes money from advertising. We have a modified experience for viewers using ad blockers

Wikia is not accessible if you've made further modifications. Remove the custom ad blocker rule(s) and the page will load as expected.