Exoskeleton PNB-4UZ

Inventory icon

Lost Alpha
Impact

90%

Rupture

80%

Explosion

80%

Firearms

30%

Burn

50%

Chem. Burn

50%

Electric Shock

50%

Radiation

30%

Night Vision

2nd Generation
Night vision

Weight

15kg

Value

51000 Ru

[Source]

The Exoskeleton PNB-4UZ is an protective suit that appears in S.T.A.L.K.E.R.: Lost Alpha and some other canon S.T.A.L.K.E.R. games.
"
Basic device for night vision is replaced by a more modern model with a digital filtration of the signal sent.
- PDA description
"
Also adds 20kg to carrying capacity for a player, for a maximum of 80 kg before immobilization.
Not possible to run wearing this armour (unless cheating)
Contrary to the inventory specifications this suit does indeed come fitted with a second generation Night vision device, but the bulletproof cap is halved to 30% as a penalty.
Also has coding to provide almost the same health restore value as that provided by a Soul (health_restore_speed = 0.0005)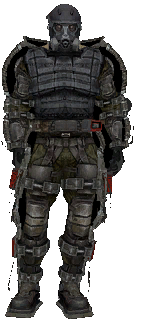 Ad blocker interference detected!
Wikia is a free-to-use site that makes money from advertising. We have a modified experience for viewers using ad blockers

Wikia is not accessible if you've made further modifications. Remove the custom ad blocker rule(s) and the page will load as expected.