Leather Jacket
Lost Alpha
Impact

10%

Rupture

10%

Explosion

10%

Firearms

10%

Burn

10%

Chem. Burn

10%

Electric Shock

10%

Night Vision

None

Weight

3.0kg

Value

1,000RU

[Source]
The Leather Jacket is an armour that appears in S.T.A.L.K.E.R.: Lost Alpha and S.T.A.L.K.E.R.: Shadow of Chernobyl.
An ordinary thick jacket, one of the many. It slightly increases bullet and splinter protection. It does not protect from anomalies and other affects.
A0 Section
1st Generation PNV - A night vision device which allows you to operate at night or in low light conditions. - 350RU
A1 Section
Processed refractory fabric - Fabric of the costume was treated with a special mixture, protecting it from fire. This modification is especially popular among stalkers who hunt for fire artifacts. - burn_protection = 0.16 - 450RU
A2 Section
Internal rubberised fabric layer - This lining will protect the body in the event that the main suit becomes ruptured. - wound_protection = 0.16 - 500RU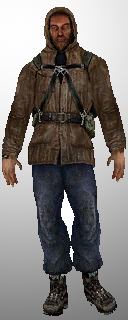 Ad blocker interference detected!
Wikia is a free-to-use site that makes money from advertising. We have a modified experience for viewers using ad blockers

Wikia is not accessible if you've made further modifications. Remove the custom ad blocker rule(s) and the page will load as expected.