Military armored suit

Inventory icon

Lost Alpha
Impact

80%

Rupture

70%

Explosion

70%

Firearms

55%

Burn

60%

Chem. Burn

50%

Electric Shock

70%

Radiation

70%

Night Vision

1st Generation PNV

Weight

12.0kg

Value

40,000 RU

[Source]
"
This Skat-9M bulletproof military suit is designed for assault operations in areas of anomalous activity. It includes a PSZ-12p heavy military bulletproof suit, an integrated compensation suit and a Sphere-12M helmet. It provides perfect protection from bullets and splinters and it doesn't decrease the soldier's mobility. It has a balanced system of anomaly protection.
- PDA description
"
An excellent suit for the experienced stalker due to its combination of high protections whilst still leaving the player the ability to run.
A minor downside for this optimized protection is that, due to its high initial cost, repairs are also expensive.
A0 Section
2nd Generation PNV - A better night vision device, designed for operations in complete darkness. - 2,400RU
A1 Section
"Environmentalist" polymer overalls with bismuth inserts. - A protective suit, created from next generation polymers, with bismuth inserts. - burn_protection = 0.65, chemical_burn_protection = 0.56 - 3,150RU
A2 Section
"Battleship" sapphire protective layer - Cutting edge protection technology - artificial sapphires integrated into key regions of the armour. - fire_wound_protection = 0.6 - 4,000RU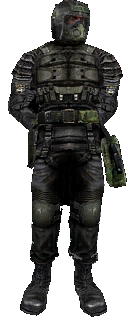 Ad blocker interference detected!
Wikia is a free-to-use site that makes money from advertising. We have a modified experience for viewers using ad blockers

Wikia is not accessible if you've made further modifications. Remove the custom ad blocker rule(s) and the page will load as expected.