PSZ 9d Duty armor

Inventory icon

Lost Alpha
Impact

50%

Rupture

50%

Explosion

40%

Firearms

40%

Burn

50%

Chem. Burn

50%

Electric Shock

50%

Radiation

50%

Night Vision

None

Weight

5.0kg

Value

14000

[Source]
"
Produced by one of Kiev's defence research institutes and commissioned by the Duty faction. It is as simple and reliable as the standard PSZ-9 model, but due to the new materials, it provides good protection from various harmful impacts, including firearm damage. The vest still needs some work because it has no breathing protection system.
- PDA description
"
A0 Section
1st Generation PNV - A night vision device which allows you to operate at night or in low light conditions. - 1,000RU
A1 Section
Rubberised fabric suit - Rubber provides basic protection from short-term radiation exposure. -  chemical_burn_protection = 0.55 shock_protection = 0.55 - 1,300RU
A2 Section
Extra carbon fibre covering - Carbon fibre is one of the most durable and wear resistant synthetic materials. - fire_wound_protection = 0.47 - 1,650RU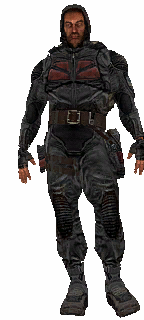 You can get one for free as soon as you have access to the great metal factory. A duty member is guarding a door with this suit and other goodies behind it along the path to the bar and you can grab it through the door even though the door is supposed to be locked. If feeling cheeky you can sell the goods you stole to the person guarding them.
Ad blocker interference detected!
Wikia is a free-to-use site that makes money from advertising. We have a modified experience for viewers using ad blockers

Wikia is not accessible if you've made further modifications. Remove the custom ad blocker rule(s) and the page will load as expected.