Reinforced suit

Inventory icon.

Lost Alpha
Impact

20%

Rupture

60%

Explosion

25%

Firearms

20%

Burn

30%

Chem. Burn

20%

Electric Shock

30%

Radiation

30%

Night Vision

First gen
Night vision

Weight

5.0kg (v1.3003-)
7.8kg (v1.4000+)

Value

6,710RU

[Source]

The Reinforced suit is a unique armour that appears in the S.T.A.L.K.E.R.: Lost Alpha standalone mod.
"
There is chain mail sown into the lining of the coat, which raises the level of protection against firearm attack and monster bites. A PNV is also included in the set.
- PDA description
"
Contrary to the claims of the description, only the rupture parameter is improved, not the firearms resistance.
There is indeed a Night vision device fitted as standard.
Upgrades
Edit
Can be upgraded from v1.4000 onwards.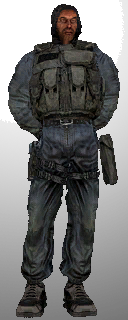 Ad blocker interference detected!
Wikia is a free-to-use site that makes money from advertising. We have a modified experience for viewers using ad blockers

Wikia is not accessible if you've made further modifications. Remove the custom ad blocker rule(s) and the page will load as expected.