UAZ-452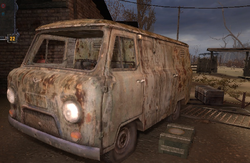 General Characteristics
Statistics
[Source]
Description
Edit
UAZ-452 / UAZ-3741 is a minivan produced at the Ulyanovsk Automobile Plant. Serial production of the UAZ-452 started in 1965. The engine is from the GAZ-21. The UAZ-452 is a 4x4 off road development of the 4x2 UAZ-450 van. Because of the external similarities with a loaf of bread, the car became known as "loaf". The car is produced in the body (wagon) and the airborne version (tadpole). The body of the car can be equipped with single side doors and folding doors at the rear (door hinges on the specific modifications).
Ad blocker interference detected!
Wikia is a free-to-use site that makes money from advertising. We have a modified experience for viewers using ad blockers

Wikia is not accessible if you've made further modifications. Remove the custom ad blocker rule(s) and the page will load as expected.