Well yea, it's that time, when we have to say goodbye, this time goodbye to 2014 and hello 2015!
We hope that in 2015 we will continue to expand this wiki and to bring it to the level of our sister wiki the S.T.A.L.K.E.R wiki.
Thanks for all the support!
HAPPY NEW YEAR!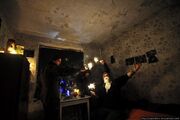 MindFreak1987™ 10:47, December 31, 2014 (UTC)
Ad blocker interference detected!
Wikia is a free-to-use site that makes money from advertising. We have a modified experience for viewers using ad blockers

Wikia is not accessible if you've made further modifications. Remove the custom ad blocker rule(s) and the page will load as expected.